Brief history of the company
Company GRADDO (company ZLINMONT before) was founded in 1990 by Dr. Alexandr Cach. Due to its gradual development it has become a strong and steady company that is able to enter domestic and international markets and attract foreign partners and investors.
In cooperation with the concern - Delphi - it obtained a significant market share with its cabel systems and car accessories for leading European car producers such as BMW, Mercedes Benz, Volvo, VW and General Motors. In the period of vigorous development company GRADDO has realized gradual construction and reconstruction of ten of shops, storage and auxiliary facilities for which it got a statute of Duty free zone in 1991. The duty free zone - FREE ZONE GRADDO - was founded as one of the first duty free zones in the Czech Republic. It operates on the basis of a license issued by the Federal ministry of foreign trade ČSFR (FMZO ÚCS čj. 2459/10-1722/91 from the 12th September 1991) and on the basis of a confirmation issued by the Ministry of Finance, Czech Republic and the Customs General Central office.
Duty free zone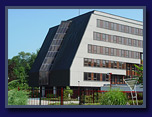 Warehousing and production in the duty free zone enable firms to save not small financial instruments mainly due to tax and duty advantages that he Duty free zone provides.
Duty free zone - FREE ZONE GRADDO - is 164.000 m2 where 100.000 m2 are modern covered and heated shops, warehousing and auxiliary halls and 64.000 m2 is uncovered consolidated warehousing space. Recently, FREE ZONE GRADDO employs 1.500 people who got maximum training for their job positions. Company GRADDO has been certified according to the highest quality standards and in compliance with ISO 9000, VDA 6, Formula 5 and QS 9000.
Its production skills - "Just In Time" - were awarded the 4th place in the international competition of automotive suppliers - Global Excellence Award (Detroit, U.S.A., 1995).