IBSSA CZ
By cooperation with IBSSA we have established security agency - International Bodyguard and Security Services Agency, Czech Republic (IBSSA CZ). Its professionalism has been appreciated by many respectable personalities from cultural, political, sport and scientific fields.
It was founded in 1990 not only for the internal company's protection but also for the purpose of rendering services in the sphere of security to other clients.
In 1997 this agency obtained an exclusive license for representing IBSSA (International Bodyguard and Security Services Agency) in the Czech Republic.

Services offered by IBSSA to its clients are:
Constant electronic warding of objects and lands based on the newest security technologies
Providing security when organizing mass events
Training security units' members and bodyguards
Maximal security and monitoring during transportation of valuables in a special armored cars with armed garrison 
Detective services
Helping clients in legal processes conduct
Possibility to financing legal processes
Psychological and health counseling led by professionals from the whole world
Prof. Giacomo Spartaco Bertoletti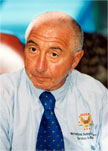 Prof. Giacomo Spartaco Bertoletti, 7th Dan Karate, 7th Dan Ju-Jitsu, co-founder and 1st Vice President of IBSSA. S. Bertoletti is President of the World Ju-Jitsu Kobudo Organization and also serves as a member of the Executive Board for the International Karate Kobudo Federation.
He is Master Teacher of self defense and martial arts and a direct student of Hanshi Robert Clark, 9th Dan. He also publishes the Samurai Magazine, one of the best martial arts magazines of Europe and Sportivo and Security - WASI official magazine.