INTRODUCTION OF PRAGOKONCERT BOHEMIA CZ

Under pressure of rising commercial tensions in culture that were hardly compatible with function of the Ministry of Culture (circus shows, tours of artists, engagement of artists abroad) in 1958 there was founded an independent agency as so called allowance organization that would contribute and provide mainly foreign cultural relations of the then Czechoslovakia but promote selected domestic artists within Republic.
Thus, the first independent monopolistic foreign agency named "Music and theater agency" later renamed PRAGOKONCERT came into existence. Under control of the Ministry of Culture that agency became one of the greatest cultural agencies in Europe - at the time of its greatest expansion there were nearly 300 employees and it was even an employer of professional musicians, cafe and bar bands of approx. 100 individuals. It also controlled "Prague chamber-ballet" and "Prague chamber-opera".
Not taking in account that PRAGOKONCERT was an allowance organization, it was strictly controlled and managed by particular authorities (Ministry of Culture, Ministry of foreign affairs, Ministry of Inner affairs and by the Central Committee of Communist Party) and it was assigned to help creating nice image of tough socialistic country. Due to its great cultural potential of Czech and Slovak culture, PRAGOKONCERT was capable to realize, particularly abroad, thousands of concerts and events that are respected still up to date at the world cultural public.
At the time of its existence as an allowance organization of the Ministry of Culture in the second half of the 20th century there were sent abroad mainly the most prestigious representatives of Czechoslovakian culture "Czech philharmony" on the regular basis to perform at the world festivals in Wien, Salzburg, Montreaux, Paris, Florence, Edinburgh. It realized regular triumphal tours round the U.S.A., Japan, Germany, France, Italy and other countries.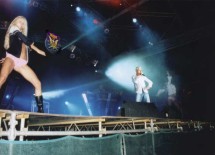 PRAGOKONCERT succeeded in consolidating its name of our classical music as one of the chamber-superpowers thanks to assemblies such as "Smetana quartette", "Janachek quartette", "Quartette of Prague city", "Prague chamber-orchestra", "Czech nonette", "Musici Pragensi", "Ars Rediviva", "Czech chamber-orchestra" and tens of others that regularly went abroad to perform at prestigious festivals. Same success was reached by "The National Theatre", "State Opera Brno", "Laterna Magica", "Prague chamber-opera", "Prague chamber-ballet" etc.
Even though PRAGOKONCERT was an allowance organization, it had never drawn any financing from the Ministry of Culture. On the contrary, it had given all of its huge profits to the state exchequer.
It could invest a part of obtained instruments into promoting own events such as "Talentinum", "International jazz festival", "Intertalent" etc. One of its last huge investment was a renewal of "Prague saloon" in the Nostic palace where the noble family of Nostics operated the first Czech chamber saloon already two hundred years ago.
PRAGOKONCERT realized actually all significant guesting of world assemblies either on commercial basis or as events assigned for the organization by the Ministry of Culture.
Those were "Teatro La Scala", "Balet Maurice Béjarta", "Philharmonic orchestra", "Leningrad Philharmony" atd. Even though the import of foreign artist to the former Czechoslovakia was strictly monitored, PRAGOKONCERT was successful to promote stars such as Louis Armstrong, Ray Charles, Ella Fitgerald, B.B. King, Tina Turner, Johnny Cash, Elton John, Mireille Mathieu, Gilbert Becaud, Marcel Marceau, Suzie Quatro, Depeche Mode, Europe, Uriah Heep and others.